Peter Bleksley's search for one of Britain's most wanted fugitives
Kevin Parle has been described by police as a brutal and dangerous man, and he has been on the run for over fourteen years. Enough is enough. Fugitive hunter Peter Bleksley is determined to bring his time on the run to an end.
Can you help with Peter's search?
Kevin Parle is described by police as 'extremely dangerous'. He remains wanted in connection with two separate murders, the shooting dead of 16-year-old Liam Kelly, in Liverpool in 2004, and the brutal slaying of 22-year-old mother of three, Lucy Hargreaves also in Liverpool, in August 2005. He has been on the run for over 15 years. Peter Bleksley wants to bring his time on the run to an end.
Download The People's Hunt Flyers
The Award winning BBC Podcast
Click the button below to listen to the award winning BBC podcast, Manhunt, Finding Kevin Parle
Hunting Britain's Most Wanted Murderer
Armed only with a notepad, pen and mobile phone, author and former Scotland Yard detective and undercover cop, Peter Bleksley is on the hunt for Kevin Parle.
For more than eighteen years, the six-foot six-inch, broadly built, ginger-haired Parle has been wanted by the police for two murders. In the early hours of 19th June 2004, 16 -year-old Liam Kelly was lured to a location in Liverpool and shot dead. The following year, another Liverpudlian, 22-year-old mother of three, Lucy Hargreaves, was shot dead in her own home. Her partner and their 2-year-old daughter escaped after the house was set alight by leaping from a first-floor bedroom window.
How could Parle have evaded national and international crime investigators for so long? Who is harbouring him? Bleksley is determined to find the answers. Immersing himself in the world of serious and organised crime, he has vowed not to rest until Parle is found.
Two murders, one fugitive and a hunter tracking down the target. This is the gripping true story of hunting Britain's most wanted murderer, and goes behind the scenes of the hit BBC Sounds Podcast, Manhunt: Finding Kevin Parle.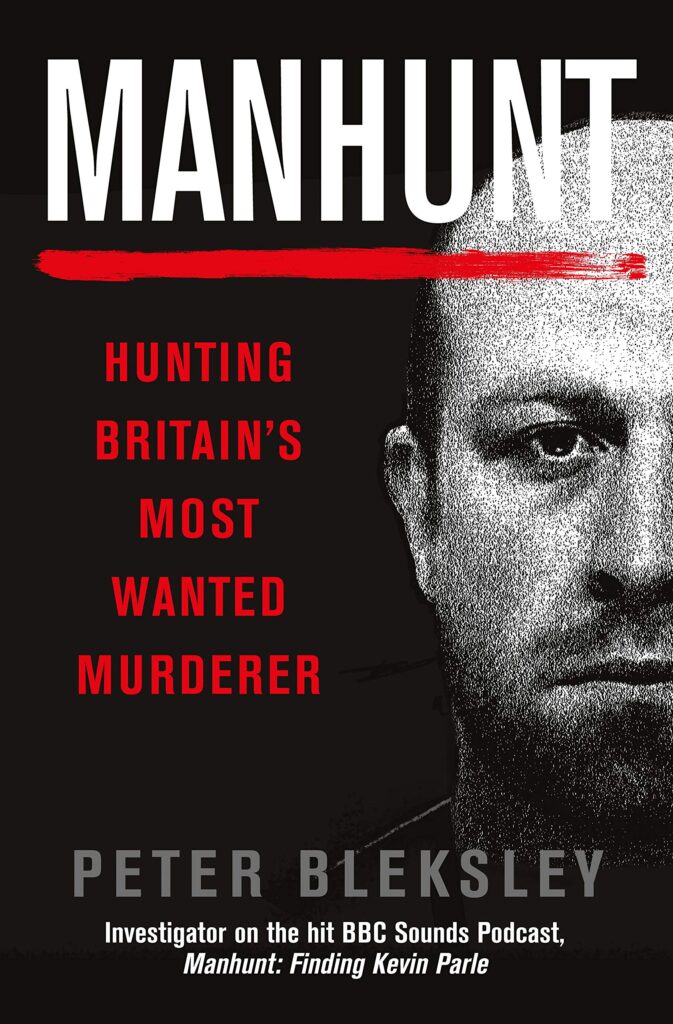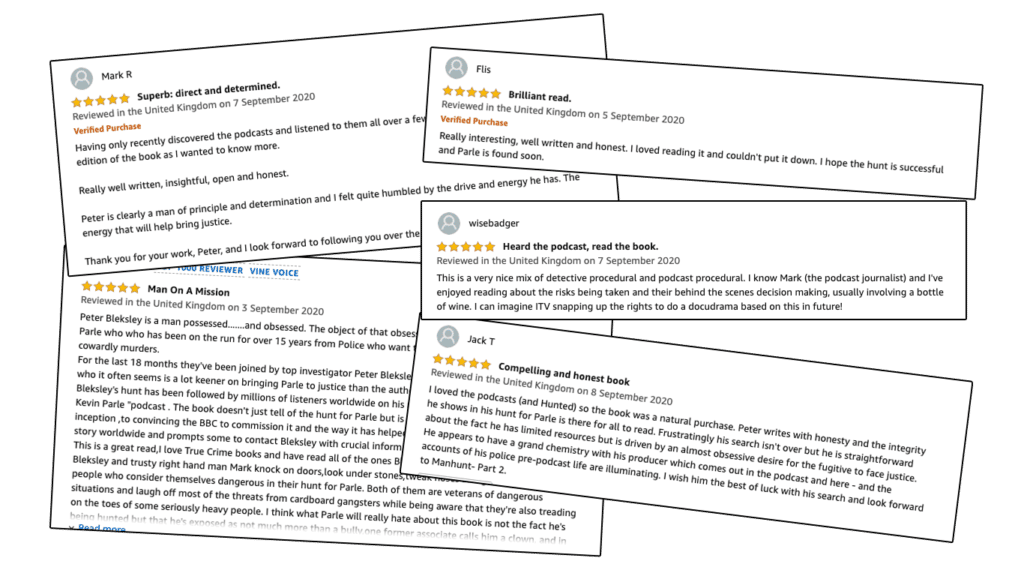 Frequently Asked Questions
Who Should I call with Information ?
If you have information about Kevin Parle's whereabouts, you can contact Peter by using the contact page on this website, via any of his social media accounts, or you can call Crimestoppers on 0800555111. Whichever way you choose to report, you will remain anonymous.
Police detective of more than 20 years, and more recently known as The Chief from Channel 4's hit show Hunted, Peter Bleksley is a fugitive hunter, author and broadcaster who, since Monday 29th April 2019, has been hunting down the UK's most wanted man, Kevin Parle.
I want to give information, will my details be made public ?

Absolutely not. If you know anything whatsoever about Kevin Parle, please contact Peter, or Crimestoppers, Merseyside Police, or the National Crime Agency. Peter guarantees that he will never disclose your identity
Won't Parle know he's being hunted with this publicity ?

Yes, this is entirely intentional. Parle has evaded justice for far too long: it's time that he knew he was being hunted and that the net started closing. His days on the run are numbered.
How can I keep up-to-date with the hunt ?

This website will be continually updated with information on the hunt.
Why make Parle Famous like this?
Kevin Parle is a highly dangerous fugitive. The more people who know about him, the more chance Peter has of capturing him and getting him off the streets.
It all began on Sunday 15th August 1993.
Three teenagers found a stolen car in Huyton, Liverpool. It had been abandoned by the original thieves because it had run out of petrol. The teenagers laid their hands on some fuel and began to treat the car as a plaything. It was driven at high speed, the engine was revved excessively, and the wheels could be heard screeching as it tore around local streets.
Behind the wheel was 14-year-old Andrew Ellis. Apparently he had never driven a car before. Watching on was Gary Campbell. As Ellis reversed the car at high speed he collided with a number of pedestrians, one of whom was four-year-old Kevin Downes. Kevin was killed instantly. His six-year-old brother Tony Downes was deeply traumatised by his brother's death, an event that would haunt him for the rest of his life.
In the early hours of Saturday June 19th 2004, 16-year-old Liam Kelly was getting out of a car in Grafton St, Dingle, Liverpool, when he was approached by two armed men. Liam was blasted in the chest and arm by a shotgun. Liam dragged himself to a nearby house but died of his injuries a short while later. The police soon identified a number of suspects and made some early arrests, but the suspects were released on bail pending further enquiries. One of the arrested suspects was the privately educated, 6' 6", broadly built, ginger haired, Kevin Parle, of no fixed address.
Fourteen months later, in the early hours of Wednesday 3rd August 2005, three masked men forced their way into the home of 22-year-old Lucy Hargreaves, in Lambourne Road, Walton, Liverpool. Lucy was asleep on the sofa. A duvet covered her. Upstairs her partner Gary Campbell, was asleep, together with their two-year-old daughter. Their other two young children were away on holiday with their grandparents.   
Lucy screamed, which woke Gary Campbell. She was then shot twice and died instantly. Campbell heard a voice say, 'Where is he? Where is he?' Soon afterwards flames engulfed the house. Campbell and the two-year-old daughter managed to escape the blazing building by leaping out of an upstairs window. They were both blackened by soot.
In June 2006 a number of people went on trial, charged with offences connected to Liam Kelly's murder. Anthony Campbell, (No relation to Gary Campbell), pleaded guilty to murder. Peter Sinclair pleaded guilty to assisting an offender. Sinclair accepted that he helped Kevin Parle dispose of mobile phones, burn clothing which contained incriminating evidence, and had driven Parle to collect a vehicle after Liam's murder. Parle however, was now on the run and was therefore not in court. Another defendant, Hannah Morgan, pleaded guilty to attempting to pervert the course of justice by making a false statement to the benefit of Parle. Patrick Smeda was acquitted of murder.
In November 2007 Tony Downes and Kirk Bradley went on trial charged with Lucy Hargreaves' murder. Adam McNally stood in the dock alongside them, charged with stealing the getaway car. The police openly stated at the trial that they were seeking another man in connection with Lucy's murder. This man was Kevin Parle, who was now wanted in connection with two of Liverpool's most shocking murders of recent times. At this trial, Lucy's murder was described as an 'execution' by the prosecution. The court heard that after Lucy had been shot, petrol was doused around the living room and hallway before being ignited.
Gary Campbell gave evidence from behind a curtain. He claimed the attack on the house was an act of revenge for his 'involvement' in the fatal car crash that killed Kevin Downes way back in 1993, and said 'Nobody wanted to kill Lucy, they wanted to kill me.'        
Downes and Bradley were acquitted of Lucy's murder, despite Downes' defence barrister, Nigel Power QC, publicly admitting there was 'compelling telephone evidence'. Downes and Bradley did not use this scrape with the law and the criminal justice system as a catalyst to live law abiding lives, instead they went on to conduct a reign of terror throughout the city of Liverpool, which saw them locked up in 2011 for a series of crimes involving guns, grenades and indiscriminate violence. Whilst awaiting trial, on 18th July 2011, they were sprung from a prison van by a gang of masked men, armed with a sledgehammer and a gun. One gang member shouted at the prison van driver, 'Get the fucking keys out or I will blow your fucking head off.'
Downes and Bradley escaped to Holland where they were later arrested. They were brought back to the UK to serve life sentences. They have since fallen out whilst in prison and it was reported in November 2012 that Bradley had been stabbed by Downes who used a 'shank' fashioned out of razor blades and plastic. These ruthless criminals who once described themselves as 'blood brothers', appealed their sentences but were told by an appeal judge that their 'campaign of terror was so serious only life sentences were justified.' Their lives of crime alone might be enough to fill a true crime book.
Can you help with Peter's search?
Latest Updates From The Hunt
Hello Everyone, Please forgive the collective nature of this message, but because so many of you have been requesting an update on the hunt for
Read More »