Peter Bleksley joined the Metropolitan Police in 1978 and his first posting was to Peckham police station in South London. In 1988 he became a founder member of Scotland Yard's undercover SO10 unit. Since leaving the police force he has become a successful author and consultant to documentary film makers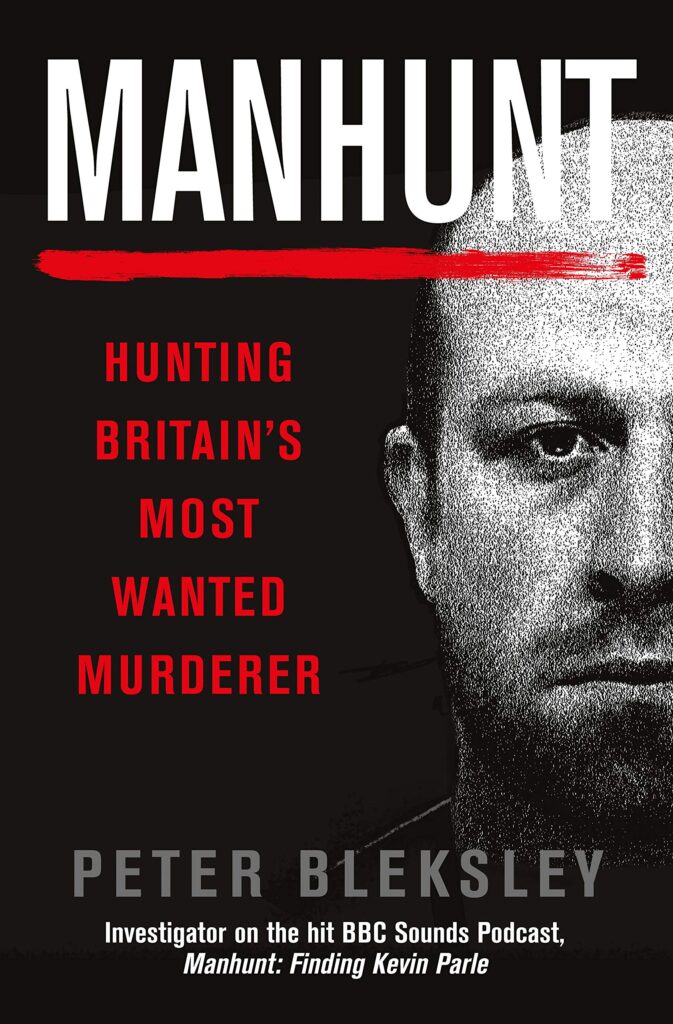 Armed only with a notepad, pen and mobile phone, author and former Scotland Yard detective and undercover cop, Peter Bleksley is on the hunt for Kevin Parle.
For more than fifteen years, the six-foot six-inch, broadly built, ginger-haired Parle has been wanted by the police for two murders. In the early hours of 19 June 2004, 16 -year-old Liam Kelly was lured to a location in Liverpool and shot dead. The following year, another Liverpudlian, 22-year-old mother of three, Lucy Hargreaves, was shot dead in her own home. Her partner and their 2-year-old daughter escaped after the house was set alight by leaping from a first-floor bedroom window.
Two murders, one fugitive and a hunter tracking down the target. This is the gripping true story of hunting Britain's most wanted murderer, and goes behind the scenes of the hit BBC Sounds Podcast, Manhunt: Finding Kevin Parle.
On 28 November 2004, banker and father-of-two Alistair Wilson was shot three times on his doorstep in a killing more commonly associated with inner city gang wars than a sleepy seaside town in the Scottish Highlands. Almost fifteen years later, the question remains: why?
Who would wish to kill this respectable husband and family man in such a brutal fashion? Was it simply a tragic case of mistaken identity, or did someone have reason to end the thirty-year-old's life? And what was the significance of the envelope handed to him before he was fatally wounded?
Over the years, leads have been investigated and dismissed, gossip has spread, theories offered and rumours debated at length. And yet, so long after Alistair's death, no arrest has ever been made and precious few leads have been made public.
As part of Scotland Yard's undercover team, it was Peter Bleksley's job to infiltrate some of the capital's most dangerous gangs and bring them down. For ten years, he went deeper into the criminal underworld than any cop had before him
Meeting with dealers, gangland leaders and members of the IRA and the Mafia, he lived the life of the Great Pretender, constantly changing his identity to ensure his cover was never blown.
Whilst undeniably thrilling work at times, it came at a heavy price. The more successful he was at bringing criminals to justice, the longer the list of those who wanted revenge became. Even now, Peter looks over his shoulder in case someone should wish to act on an old threat.
InThe Gangbuster, Bleksley draws us into the world of drugs, violence and covert operations he inhabited for so long in the pursuit of justice.
Roughly ten per cent of all murders in the UK go unsolved. Here, Britain's top ex-undercover cop shines new light on cases up and down the country in search of answers.
Peter Bleksley's life has been devoted to investigating. As an undercover detective for the Metropolitan Police and in his ability to get to the bottom of a case was legendary as he dealt with some of the world's most feared criminals. His success rate in solving murders as a serving officer was one hundred per cent.
Using the investigative skills gained from decades of experience and access to archives and contacts in the force, Bleksley shines new light on investigations that ran aground, often despite extensive media coverage and police resources. Often he discovers glaring errors made by investigators and forensic teams that will shock many of the general public.